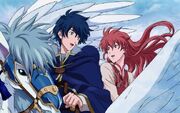 This is the list of episodes from Romeo X Juliet anime series.

Episode list
No.
Funimation title / Original Italian subtitle

Original Japanese title

Original air date
English air date
1
"Two People: If They Did Not Meet" / "Destino""Futari ~Deawanakereba~" (ふたり 〜出会わなければ〜)
April 4, 2007
April 28, 2010
In a bloody coup d'état against the rulers of Neo Verona, forces led by Montague enter the city's palace during nighttime and massacre members of the Capulet family. Juliet, the toddler daughter of Capulet, however, survives with the help of the palace's guards. She reappears 14 years later masquerading as a young boy named Odin, who disguises himself as the heroic outlaw Red Whirlwind while fighting against the injustices of Montague's soldiers on the streets of Neo Verona. After fleeing a confrontation against the soldiers, Juliet finds herself cornered but is rescued by young noblemen Romeo and Benvolio. Juliet, whose Capulet heritage was hidden from her, expresses to her friend Cordelia the frustration of being required to dress as a boy in public. Cordelia encourages her to remain patient as everything will be revealed the following day on Juliet's 16th birthday. That evening, Juliet is invited by Emilia to join her at the palace's Rose Ball without having to dress as the opposite gender. At the ball, Juliet is revisited by a flashback of her as a toddler standing in the palace, and she encounters Romeo a second time in the palace gardens.
2
"The Promise: A Scent Remembered" / "Il Segreto""Yakusoku ~Omoide no Kaori~" (約束 〜思い出の香り〜)
April 11, 2007
April 28, 2010
During the chance encounter with Juliet, Romeo is called away by his father Montague, who announces to those present at the ball that Romeo will be betrothed to the noblewoman Hermione. Juliet, unaware of the announcement, is escorted home by her guardians and once again expresses to them her frustration of dressing as a boy. On the morning of her 16th birthday, Juliet once again masquerades as the Red Whirlwind and, with her sidekick Antonio, rescues several young women who were taken away as collaterals until their families are able to repay their loans. Their rescue is successful, but Juliet is cut by a sword during the confrontation. While she is treated for her injury, the doctor reveals to her the increasingly oppressive rule of Montague. Juliet encounters Romeo again later in the afternoon at a field of white irises. Before parting, the two promise to meet again the following day at the same location. Juliet is taken by her guardians after her birthday celebration that evening to the Capulet family cemetery. There, Juliet's Capulet heritage is revealed, and former retainers of the family gather to swear allegiance to her.
3
"Love: Cruel Mischief" / "Attrazione""Koigokoro ~Zankoku na Itazura~" (恋心 〜残酷な悪戯〜)
April 18, 2007
May 5, 2010
Romeo tries to meet Juliet once more with no success, until he sees the Red Whirlwind getting herself in trouble again.
4
"Bashfulness: Beaten by the Rain" / "Una Timida Fanciulla""Hajirai ~Ame ni Utarete~" (恥じらい 〜雨に打たれて〜)
April 25, 2007
May 5, 2010
Juliet is shocked with the fact that Romeo is the son of the man who slaughtered her family, and disguised as Odin, she ends up having another encounter with him.
5
"Whirlwind: Burning Resolve" / "Si Alza il Vento""Kaze ~Moyuru Kakugo~" (旋風 〜燃ゆる覚悟〜)
May 2, 2007
May 12, 2010
Romeo discovers, much to his surprise, that Odin is in fact his love Juliet. Meanwhile, a manhunt for the Red Whirlwind engulfs Neo Verona, and Dr. Lancelot takes a decision as Juliet comes to terms with the Montague tyranny.
6
"Hope: Tomorrow Entrusted" / "Speranza""Kibō ~Takusareta Ashita~" (希望 〜託された明日〜)
May 9, 2007
May 12, 2010
With events at the square unfolding outside of Juliet's control, the Red Whirlwind is believed to be dead, with only Romeo learning the truth that Juliet, still alive, is in fact the real Red Whirlwind. Benvolio's father Vittorio, the mayor of the city, is stripped of his aristocracy and exiled together with his family. However, Lord Montague has an even more cruel fate in store for him.
7
"Warmth: Just for Now" / "Il Tocco delle Tue Mani""Nukumori ~Ima dake wa~" (ぬくもり 〜今だけは〜)
May 16, 2007
May 19, 2010
A mysterious man named Tybalt saves Juliet and her companions, who are fighting the assassins Montague has sent for Vittorio and his family, before vanishing. The next day is the Flower Festival, where flowers are given as a symbol of affection. Standing Hermione up, Romeo pursues Juliet through the city streets to give her an iris. After Romeo catches up with Juliet, they share their first kiss.
8
"Naïveté: What Justice Is" / "La Via Più Facile""Amae ~Seigi to wa~" (甘え 〜正義とは〜)
May 23, 2007
May 19, 2010
Romeo, who has deduced Juliet's family name, is punished for breaking his promise with Hermione, and informs her that he is seeing someone. He then finds out from Benvolio about his father's attempted murder on Vittorio and his family, who are now living in hiding. Tybalt, wanting to test Juliet's resolve, exposes a certain priest's corruption to her. Still, Juliet does not have it in her to take another's life.
9
"Rise to Action: Hesitation Quelled" / "L'Incrocio""Kekki ~Tachikiru Mayoi~" (決起 〜断ち切る迷い〜)
May 30, 2007
May 26, 2010
Juliet and the others conspire to attack Montague, but Camilo betrays them by revealing their location and the Montague guards attack them. Francisco arranges for Juliet to escape with Tybalt. Meanwhile, Romeo finds leaves of the Escalus tree and inquires his father, who heads underground to meet with Ophelia.
10
"Tears: To Have Met You" / "Lacrime""Namida ~Anata to Aete~" (泪 〜貴方と逢えて〜)
June 6, 2007
May 26, 2010
After Tybalt brings Juliet to safety, he leaves her alone after saying that she is not yet prepared to defeat Montague. Blaming herself, Juliet goes out into the streets and collapses, but is saved by Lady Portia. Romeo then arrives, and in a rendition of the balcony scene, declares that he will throw away his name to be with Juliet.
11
"The Vows: The Blessing of the Morning Sun" / "II Giuramento""Chikai ~Asahi no Shukufuku~" (誓い 〜朝陽の祝福〜)
June 13, 2007
June 2, 2010
Romeo and Juliet leave Neo Verona and travel across the countryside. They come upon a dilapidated church overrun by irises and take the vows of marriage before one another and the Goddess.
12
"Solace: To Stay This Way" / "Un Porto Sicuro""Ansoku ~Kono Mama de~" (安息 〜このままで〜)
June 20, 2007
June 2, 2010
The search for Romeo and Juliet continues, as they both hide in an abandoned village. They stumble upon the Escalus tree, and find that its roots are dying. Duke Montague's personal guards are sent to look for Romeo and Juliet. As Romeo and Juliet set out to stop the soldiers from destroying a nearby town, they find themselves greatly outnumbered. After both Romeo and Juliet show their true identities to the guards, Juliet is taken prisoner.
13
"Pulsation: Guided" / "Il Battito Vitale""Myakudō ~Michibikarete~" (脈動 〜導かれて〜)
June 27, 2007
June 9, 2010
Juliet is exposed as the leader of the Capulets and imprisoned. She's just about to be executed, but is ultimately saved from imprisonment by Francisco, Curio and Antonio. She and Romeo meet, but decide to temporarily part ways.
14
"Solemn Responsibilities: In the Circle of These Arms" / "La Sfida""Jūseki ~Kono Ude no Naka de~" (重責 〜この腕の中で〜)
July 4, 2007
June 9, 2010
Romeo is banished from the keep by Lord Montague, and gives him authority over the Gradisca Mines. He is not allowed to return until the mine doubles its production. He arrives to find the mines filled with small-time criminals, and decides to work in the mines himself to increase production. He befriends a sickly worker, Petruchio. Over a small period of time, Petruchio gets sick, and dies. Romeo then learns the truth of how Petruchio was imprisoned from Giovanni. He also tells him the real difference between Nobles and Commoners, while Romeo cries over Petruchio's grave.
15
"The Self: The Way Forward" / "L'Alba dei Cambiamenti""Jiga ~Susumu beku Michi~" (自我 〜進むべく道〜)
July 11, 2007
June 16, 2010
Juliet and Co. are resting, when she remembers the moments linked with the great tree of Neo Verona. At the same moment, an earthquake happens, causing a major cave-in at Gradisca Mines and injuring a majority of the workers. Romeo declares that all the laborers have done enough work to allow themselves to be free, and goes off to rescue some of the workers trapped by the cave-in. He rescues the remaining workers, and the other workers who distrusted him for being a noble, now do trust him.
16
"One Person: So Dear" / "Lontano dall'Amato""Hitori ~Itoshikute~" (ひとり 〜いとしくて〜)
July 18, 2007
June 16, 2010
Her patience and mental stability waning, Hermione runs away from home to try to see Romeo. After several setbacks, she unexpectedly runs into Juliet and Co. Embittered and jealous, she attacks Juliet before fainting in exhaustion. The two girls reconcile their differences slightly when she awakens, and Hermione returns home afterwards.
17
"Cruel Tyrant: Darkness, the Origin" / "Il Passato Sepolto""Bōkun ~Shikkoku no Innen~" (暴君 〜漆黒の因縁〜)
July 25, 2007
June 23, 2010
While Romeo reassesses where the workers will live, Juliet and Co. hears news of Camio in town and move to engage him. Surprisingly, they meet up with Tybalt who has taken residence there. He then recounts to Juliet his and Montague's pasts, explaining to her why he hates Montague to much, and how Montague came to become the leader of his clan.
18
"Aspirations: In Each of Their Hearts" / "Volontà""Kokorozashi ~Sorezore no Mune ni~" (志 〜それぞれの胸に〜)
August 1, 2007
June 23, 2010
Romeo works to create the village he has promised and it flourishes well. Juliet and company begin rehearsing for a play William has composed for Neo Verona reenacting Juliet's tale. Juliet hears news of Romeo's village and with Curio escorting her, they have a sweet reunion.
19
"Succession: I Am None Other" / "Il Vento della Speranza""Keishō ~Ware koso wa~" (継承 〜我こそは〜)
August 8, 2007
June 30, 2010
After spending some time together, the lovers go their separate ways again, with Juliet leaving for Neo Verona. William's play goes underway and during the performance, Juliet revives the Red Whirlwind ego. Rallying the townspeople for the Capulets' rebellion, Juliet and company attack a major hidden fortress that housed the majority of the Montague's Pegasi troops and captured the town gate to Neo Verona. On the top of the gate she rallies the populace against Montague's rule. Her true identity as a Capulet is revealed to the townspeople.
20
"Duty: Unwavering Step" / "Tenuti al Dovere""Shimei ~Yuruginaki Ippo~" (使命 〜揺るぎなき一歩〜)
August 29, 2007
June 30, 2010
Juliet, as the Red Whirlwind, rebels against Lord Montague to free the people of Neo Verona and successfully captures the outer city or common square. Meanwhile the village Romeo is leading is having trouble due to the soil; as the tree dies, the fertile land dies. Soon news about Juliet is sent to Romeo, and being supported by everyone in the village, Romeo rushes to meet Juliet. After meeting with Juliet, Romeo begs her to let him reason with his father once again. In the council of dukes, Montague proposes to burn the entire common grounds to flush the Capulets out. Only one was in favor, his adopted son Mercutio, whilst the others refused. He then proceeds to kill the chairmen to persuade the others to accept. Romeo arrives to persuade his father to surrender. But, instead of surrendering, his father shows his Escalus, and he witness the tree death. Juliet then visits her parents' grave, at her grave she meets with Ophelia, and here we discover that Juliet is destined to save the tree or die to create a new tree
21
"The Covenant: The Goddess's Embrace" / "Da Morire""Okite ~Megami no Hōyō~" (掟 〜女神の抱擁〜)
September 5, 2007
July 7, 2010
The episode begins with Juliet returning into the city, which is in ruins due to the earthquake created by Escalus. As they attempt to tend to the citizens Mercutio begins Montague's scorch earth policy and presides to burn the city only to be stopped by Romeo, and soon he and Juliet meet together. With the people on her side, Juliet begins the battle against Montague's defense. Before that Juliet and company attends Benvolio and Cordelia's wedding with Juliet's wishes for their happy future and Willy as the priest (the previous one was killed by Tybalt).
22
"Curse: Raging Fury" / "La Fine della Rivoluzione""Jubaku ~Aburu Gekijō~" (呪縛 〜荒ぶる激情〜)
September 12, 2007
July 7, 2010
We find out that Tybalt is also a son of Lord Montague. There is a small flashback of a young Lord Montague (assumingly) meeting Tybalt's mother. Juliet faces off against Lord Montague, and convinces him to surrender. Mercutio then stabs and kills Lord Montague. Afterwards Juliet heads to Escalus.
23
"Seed Brought to Life: The Kiss of Death" / "Per il Mio Amore""Mebuki ~Shi no Kuchizuke~" (芽吹き 〜死の接吻〜)
September 19, 2007
July 14, 2010
While Juliet heads to Escalus, Romeo tries to make amends to his departed father. When Tybalt gave him the news that Juliet is sacrificing herself to save Neo Verona, Romeo dashes to find Juliet before it is too late.
24
"Prayer: In the Same World as You" / "Un Nuovo Mondo""Inori ~Kimi no Iru Sekai~" (祈り 〜きみのいる世界〜)
September 26, 2007
July 14, 2010
Romeo goes to stop Juliet from being absorbed by Escalus, but is fatally stabbed by Ophelia, whom Romeo kills. Juliet sees Romeo dying on the ground and decides to follow her destiny, sacrificing herself to save everyone in Neo Verona. Romeo is wrapped in Juliet's arms as she becomes Escalus so she doesn't break their vow. Afterwards, Neo Verona lands in the ocean. "Epilogues" for the various characters are shown during the credits.